Padma Shri Milind Kamble is such a social worker who worked hard for the upliftment of the downtrodden people and today he is not dependent on any recognition. Milind Kamble is a well-known businessman of India, whose hard work has given a platform to Dalit entrepreneurs of India to establish and grow their business. Milind Kamble, a young engineer from Maharashtra, by setting up his own big business, gave a unique platform to the Dalit entrepreneurs emerging in the country and under his leadership, business-related seminars organized in every corner of the country, which provided guidance to Bahujan entrepreneurs.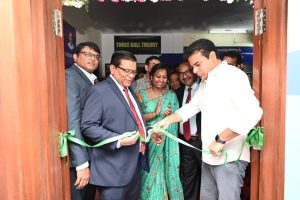 Milind Kamble has struggled a lot in his life and achieved success, due to which he is a well-known business man today. In today's time, Milind Kamble's Fortune Construction Company has its luxurious corporate office at Nariman Point, a very expensive and posh area of Mumbai, whose annual turnover has reached around Rs.150 crore. Employing thousands of people including skilled engineers. On the other hand, everyone knows that Padma Shri Milind Kamble has a capable businessman, but no one knows the bitter experiences of his life behind this success. Let's learn to Milind Kamble life story, he is born in Chobli village of Latur district of Maharashtra.
Milind Kamble was born in 1967 in Chobli village of Latur district, Maharashtra. Milind Kamble's father Prahlad Bhagwan Kamble was a teacher in a government school and his illiterate mother was managing the family. Farming also used to be fine, so did not have to face many difficulties. Child Milind Kamble passed the eleventh in 1983 and during this time one of his relatives advised him to do polytechnic diploma engineering. It is not right to spend more money and time for degree, so soon after diploma you will get government job. Milind took admission in Nanded Polytechnic College for Civil Diploma Engineer.
During this, one had to watch and understand the work at a construction site for a week to prepare the practical project report. At the same time, I happened to meet a contractor Vikas who himself was a college pass out. He showed students the dream of earning a lot of money by setting up their own business in the field of construction and for this Pune would be better than Mumbai. Seeing the facilities available with the young contractor and knowing the best way to earn money, Milind's dreams also skyrocketed. During his studies in Nanded, he joined an organization called Dalit Panther, which was running an awareness campaign among the Dalits of Maharashtra like the Black Panther of America. Later, after completing his diploma in 1987, Milind started telling his father about his plan to go to Pune and Setup his business.
Even before he told the whole plan, the teacher's father got angry. Said, do you know the meaning of business? Do you have money to start a business? Do you have any relatives in business? It is good that soon fill the form for any government job and do not take the name of the business. I taught you so that you become a "sir" somewhere, not because you stumble here and there as a small contractor. Milind Kamble also did not apply for a job for several months and one day made up his mind to leave home. The dreams were high but there was not even a penny nearby. Mother secretly gave 500 rupees and blessings to the beloved. Reached Pune via Latur by bus. Spent a few days there with an acquaintance in a small place and got a job in a construction company for Rs.700 a month.
After a year, I started getting a little more salary in another company, rented a room and also bought a cycle. After this he joined a housing company at a salary of three thousand seven hundred fifty per month. Leaving the cycle, bought a scooter and in the meantime, remembering his dream again, Milind Kamble formed a company named Engineers and Contractors and started looking for work. In 1992, the first job was to build the boundary wall of a college. The work was worth 97 thousand rupees. On completion of the work, the principal of the college called Milind and congratulated him and also received a prize of Rs.500.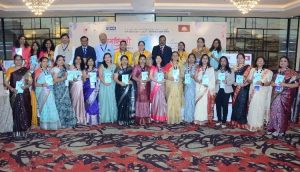 It was always necessary to have more capital nearby for big work ahead in life but father was not even daring to ask. That's why he collected money from his friends. Got the second job for Rs 1.5 lakh and the first year turnover of the company was Rs 6.5 lakh. After this, he worked in partnership with a big contractor like Mishraji of Uttar Pradesh origin. Meanwhile, a Dalit officer in the Railway Department, K.K. R. Due to Kamble's help, Milind Kamble got the job on the condition that there would be no compromise with quality, price and time.
Milind Kamble got married in 1995. After this, they started providing goods and services to Mishraji's company, thus projects worth crores were completed one after the other. Meanwhile, after discussing business in a conference of Dalits in Mumbai, a plan was made to form a platform of Dalit entrepreneurs. First it was named SCSTCCI in 2003 but after two years it was named DICCI on the lines of FICCI. Along with this, on April 14, 2006, the name of the own company was also changed to Fortune Construction Company. After all, Milind Kamble wanted to give a corporate look to his company.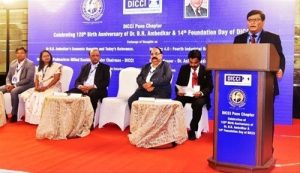 At the same time, Milind Kamble thought of working mainly in the private sector instead of government work. Started with single story building construction. Got a job worth 10 crores in a private college. After this, in 2008, a new example was set by building towers with 100-150 flats. The famous tower named Pinay had quarter to two hundred flats. Coming to Milind Kamble's Fortune Company.The result of Dickie's efforts is the respect of Padashree, the work kept increasing one after the other and reaching new heights. Its annual turnover in the year 2014 was around Rs.180 crores.
After establishing DICCI in 2003, Milind Kamble with his business has been touring across the country to bring Dalit entrepreneurs on a single platform. Meeting with big industrial groups and government representatives is creating a new environment. Dalit Entrepreneurs Further, the Central Government has made a special provision of Rs 200 crore for Venture Capital Fund to promote Dalit entrepreneurs so that budding entrepreneurs do not face shortage of funds. It is expected that the dreams of Milind Kamble and his team will definitely be fulfilled to take forward the budding Dalit entrepreneurs.
From the very beginning, Milind Kamble believes in Tathagat Buddha and Babasaheb Ambedkar, the founder of this mission, and citing Ambedkar's economic policies, calls upon the Dalits to take care of business now, and in the year 2013, seeing these achievements, Milind Kamble was honored with prestigious award like Padma Shri.
This article was written by - Rukhsana. (Journalist, Dalit Times)
*Help Dalit Times in its journalism focused on issues of marginalised *
Dalit Times through its journalism aims to be the voice of the oppressed.Its independent journalism focuses on representing the marginalized sections of the country at front and center. Help Dalit Times continue to work towards achieving its mission.
Your Donation will help in taking a step towards Dalits' representation in the mainstream media.